Cash For Junk Car
Junk Car Miami – Don't know where to sell your wrecked or abandoned car? Cash for Junk Cars is the top car buyer. Therefore, we will offer free junk car removal and pay you top dollar for your old car.
Junk Car Miami
We buy any cars. As a result, we buy junk cars of all makes and models domestic and foreign, whether they are running or not. In addition, if you are in need of money? Let us get your unwanted vehicle out of your hands, and convert it into cash for you! Certainly, selling an old car has never been easier! Just give us a call, after that, we will give you money for your junk car, truck, van or SUV! So, you can start enjoying your cash.
Sell Junk Car In Miami
Cash for Junk Cars will pay top dollar for cars and trucks that are wrecked, damaged or not working similarly, cars and trucks that are in running condition! Give us a call and we'll tell you how much your car is worth, likewise, we will pick it up for free since we offer free junk car removal. In addition, title transfer and free towing are always included as a result of you selling your car to Cash For Junk Cars Miami. So, forget about headaches and sell your car today!
5 Steps Before Selling Your Junk Car
1. Locate important papers.
Start by locating your vehicle papers, as a result, the process of selling your car will be simple and much faster for you.
• The title is the most crucial paper because consequently without it the transfer and cancellation of the title can't happen.
• However, in case the title has been lost or misplaced, the salvage yard can still buy the junk car with a copy of your drivers' license and proof of ownership (e.g. Registration or VIN number), so make sure to have this as a backup.
2. Getting the best quote.
Certainly, calling various junkyards can make the difference between getting a good price and being ripped off. You'll be surprised to hear all the quotes you'll get for your car. To clarify, various factors may impact the quote offered such as make, year, or the weight of the car. So, this is the reason why it's better to get various quotes.

3. Communication is key to no surprises.
Usually, often times the dispatcher won't ask all the questions necessary because of lack of time. That is to say, that you got to make sure, you inform the dispatcher of the conditions of the car and any missing parts. Also, be sure to ask if there are additional fees such as towing service and title transfer, for instance.

4. Confirmation of sale.
It's important that the tow truck driver gives you a receipt of sale because that will protect you from any conflicts that may occur after selling your junk car. Additionally, it is recommendable that, above all, after about 2 months you call the tag agency or DMV to make sure that the title has been canceled.

5. Finding the right junkyard.
In conclusion, finding the right junkyard is like finding the perfect restaurant for a date. So, you should look at the reviews to make sure that the company is a trusted and licensed company.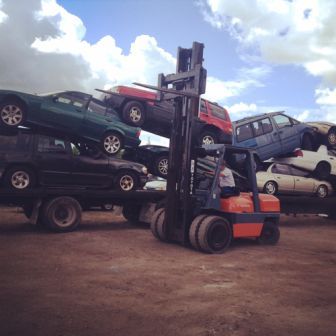 Process of selling your car
The process of selling your vehicle is very simple. First of all, you agree to the quote one of our representatives gives you over the phone, consequently, we will set up the best time and day to go pick up your junk car. After that, we'll send a fully equipped flatbed tow truck to your home. Most importantly since our drivers are very professional and well trained to handle any kind of situation, so, there is no need to worry about the position of the car, whether it has flat tires or you are unable to put the car on neutral. We will take care of it.
What You Need To Have
In addition, you need to have the certificate of title on hand and ready when the driver shows up, after that, he is going to instruct you to sign it over to our company and give you a receipt as proof of sale. On the other hand, in case you misplaced the certificate of title, our driver will instruct you to fill out a cancellation of title form which is also a proof of sale.
Final Step To Sell Your Junk Car
Finally, once the paperwork is done, we will get your unwanted vehicle out of your property. In short, your old clunker is going to be towed away in just a few minutes. This is a very simple and quick process. Cash for junk cars specializes in picking up junk cars always providing excellent service in a timely manner.